VETERAN'S GROUP RG HEMLO PUBLICITY OFFICER

NEWS FLASH - DATE: TUESDAY SEPTEMBER 5, 2017 - MEAT/BAKE DRAWS START AGAIN AT 6:30pm ALONG WITH CHASE THE QUEEN AT 6:00pm

WELCOME back from summer vacation!!! Although we will have a different name (TBA) we are the same core group of volunteers and members organizing/working the meat/baking draws in order to support Veter-ans and organizations who also do the same.

Well Fall is quickly approaching and hopefully you all had a great summer and are well rested. We took the summer off from doing the meat/bake draws to give our awesome members a chance to rest and enjoy the summer but we still did a few things such as visiting other clubs, golf tournament and stopping in at Unit 283 to continue our support of ANAVETS.

Our fund raiser on July 9th, under the ANAVETS banner was a nine hole best ball tournament with proceeds going to the DEER LODGE CENTRE VETERANS WING. We raised $2,748.25 which we donated on Aug 29th. The tournament was a marvelous success with fun had by all. We had good golfers to non-golfers play-ing for a great cause. To all the hole and prize sponsors thank you very much for your support, without you this would not have happened. Our group is looking forward to carrying on our fund raising activities to help Veterans. With all our hearts we would like to send a big thank you to all the ANAVETS Units, volunteers, and supporters. All of us have made a difference and helped many.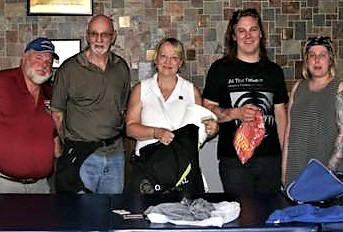 Veterans Group