ENTERTAINMENT and SPECIAL EVENTS Shirley Lyon

St. Patrick's Day was a HUGE Success with a packed house, $635. On Cover Charge and the bar did $4,267!

The Big Screen was installed last night and the projector will be installed shortly. So plan to come and watch the Jets and all other Sporting Events on the large screen. There will be Beer Bucket Specials as well.

Tickets are now on sale for the Wishing Well and Bridge

3- $2.00 Draw Date - Friday May 10th

May 12, 7:00 p.m. Stand Up for Families Comedy Night Tickets are available at the bar and are $15. Main Lounge

June 9th Daylin James He performs as Tom Jones and Elvis so come out and enjoy some great music from the past! Tickets are $20 and are available at the bar. This will be in the Stillwell Hall. Doors open at 6 and concert starts at 7. Leto will be featuring a special as well.

As July 1st is a Sunday, it has been approved that the club remain closed so staff and members can enjoy the day.

Canada Day will be celebrated on Saturday June 30th Following the Meat Draw we will be offering a BBQ dinner, Home made Burgers, Smokies, Baked Beans, Caesar Salad and cake or cup cakes. Cost $10. We will encourage people to wear red and white, and allow hats. We will have Trivia games to play before dinner and Karaoke music for the evening entertainment.

July 14, 7:00 p.m. Anniversary & Awards Night Please plan to come out and celebrate the acknowledg-ment of our members.

September 29, Saturday Sisters of the Holy Rock will be performing in the Stillwell Hall. Tickets will be $20.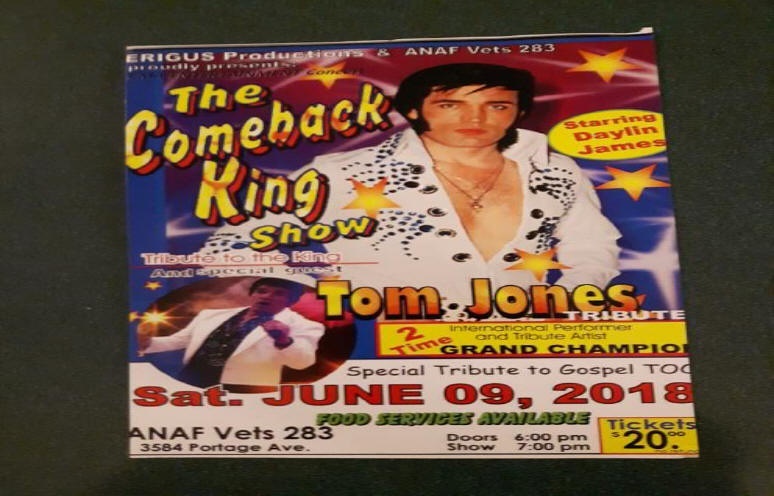 BANDS FRIDAY NITE 8pm to MIDNITE
MAY 2018

4 Dynamics

5 Music Man Rick Enns 7pm-11pm(Tri Banquet) Everyone welcome for the Music No Door Charge

11 Over The Edge

18 Destiny

25 Marvels

JUNE 2018

1 Almost Angels

8 McGiver

15 Sunny In The Shade

22 Rockets

29 Rock The House