Pipe Band Barbie Sands
Our pipe band currently has 11 pipers, one bass drummer, one tenor drummer and one side drummer. We still practice every Thursday night from early September until the end of June. Out of the 15 pipe bands in Winni-peg we believe we have the best and biggest practice hall so thank-you! Our 2018 started off by playing at our Unit's January 1st Levee which was well attended even though it was very cold out. We then started preparing for our Robbie Burns night which was held again in our Anavets Club on Friday January 26th. Lito prepared a delicious Burns meal consisting of traditional meat pies, turnips, mashed potatoes and trimmings. We raffled off a Scottish basket, played a few tunes and handed out compli-mentary haggis and shortbread cookies. All proceeds raised that night including our 50/50 draw were donated to our Anavets Unit.
Through the winter months we played at #283 celebration of life ceremonies, the Winnipeg Scottish festival, curling events and Winnipeg senior residences for their Senior Olympics just to mention a few. In April and May we hired a professional piper Wes Sheppard to hold two piping workshops for us and also continued learning new tunes. June rolled around and the band played at the Winnipeg Arthritis Walk on Sun-day June 3rd at Assiniboine Park. This is a fun volunteer event that we look forward to every year. Some of our band members joined others from the Kenora ON pipe band to play in Westgrove Schools Canada Day parade on Thursday June 28th. I work at this school so I am very happy to do this parade around the neighbour-hood with over 150 kids, staff, parents and friends waving flags behind us. It is a highlight for sure in the school year.
Our wind-up party was playing outside in the Anavets parking lot with finger food and beverages. It was a scorcher that day of plus 29 C!
The band broke off for the months of July and August but 3 of us from our band were lucky enough to travel back to Scotland for 18 days to play in another large massed Canadian band. We travelled all over Scotland but the highlights were Culzean Castle, Isle of Skye, riding the famous train from the Harry Potter movie and touring many battlefields where pipers played the Lament in honour of all the fallen soldiers. I was proud to wear my Anavets uniform overseas!
The last event for us was George Patterson from our band was called on to play his pipes at the Unit Anniver-sary and awards night in July.
Our AGM was held Thursday September 20th. We elected our executive which stayed the same and organized playouts and band events for the coming year.
The band played again at Riverview Care Centre on Friday November 9th for their Remembrance Day service and Barb Wipf went with our colour party to Ness Middle school and John Taylor Collegiate to play the Lament for their services on Thursday Nov 8th.
I unfortunately missed our #283 Remembrance Day service as I was in Thunder Bay piping and honouring my late step-Dad Sergeant Vernon Ruttan. Just on a side note I wanted to say that he served in the Canadian navy for years then the United States Marine Corp. He was presented with 2 Citations over his military career one being the Air Medal in 1967 and the Navy Cross in 1969 by the direction of the President of the United States. I also visited TBay Branch #5 Royal Canadian Legion to see the poppies and soldiers that 2 artists had painted across the entire front of the legion. In big red letters they also painted Lest We Forget. I heard when I got back that our Unit's Remembrance Day service went well and was lovely like usual.
We once again participated in Adopt-a-Veteran a program run by George Stetina from 17 wing. The band members thoroughly enjoyed Christmas shopping for 10 Veterans in Deer Lodge. We are happy to participate in this fantastic venture every year.
Our Christmas party was held on Saturday December 8th at Assiniboine Downs and we were happy to have our President Len Cook and his wife Linda join us again this year.
In closing I want to say a huge thank you to everyone who supports our band by purchasing our 50/50 tickets every Friday night. This is how we are able to purchase much needed band and uniform supplies. Also the Unit doesn't run by itself so thank you to all the very hard working members who volunteer countless hours to help the Unit run smoothly for everyone. The band members are glad to be a part of the Unit and feel proud wearing our uniforms and representing Unit #283 wherever we go. We all hope for continuing success for the Unit #283.
Welcome!! Come and check us out!!!
We are an adult band who practice every Thursday night at our Anavets Assiniboia Unit #283 Hall 3584 Portage Avenue Winnipeg, MB R3K 0Z8
If you are interested in finding out more about joining the band, please contact Barbie Sands at dbpsands@mymts.net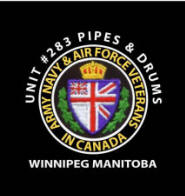 Pipers
Barbie Sands Pipe Major
Ken Cairnie Pipe Sergeant
Hilda Towerzey
Barb Wipf
Bill MacQuarrie
Rob Gillespie
Colleen Morrison
Ken McLeod
Frank Talbot
George Paterson
Jimm Simon
Drum Major
Creighton Kerr
Drummers
Rick Furney Drum Sergeant
Aileen Najduch Tenor Drummer
OUR EVENTS


Anavets #283 Levee January 1st

Robbie Burns Dinner and Dance

Brookside Cemetary Memorial Service May

Oakview care Home July 1st

Anavets #283 Anniversary Dinner July

Terry Fox Run Parade Assinboine Park September

Anavets #283 Remembrance Day Service November

We also provide Pipers for Anavets #283 Funeral and Memorable Services



HISTORY
The Anavets #283 Pipe Band was formed back in 1992. Two of the founding members are pictured below. From left to right, Don Morrison and Ed Montgomery.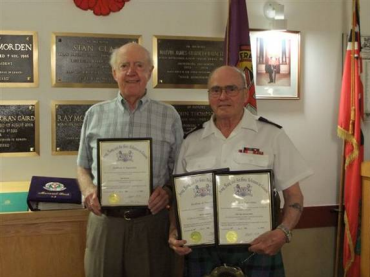 We wear the Flower of Scotland tartan.