SPORTS Rae Roberts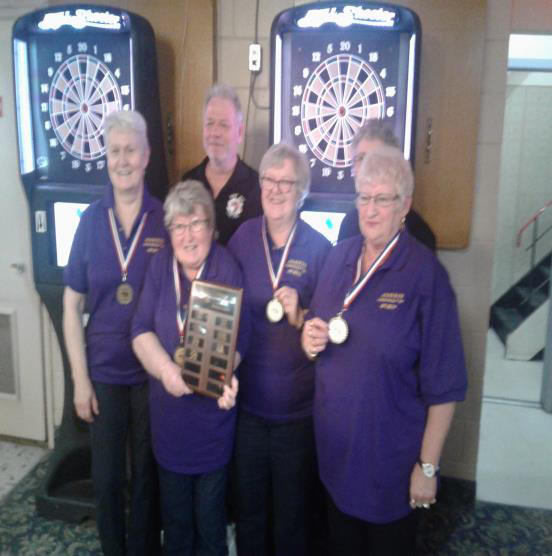 Another successful year of winter sports at Unit #283 has now been completed for the 2017-2018 season. Par-ticipation has been excellent and the competition exceptional. The players have, I am sure, thoroughly enjoyed not only the competition but the camaraderie of league play. As always, it's not only winning a event but also the involvement and dedication of the participants that help make a success of out Unit sports leagues. On that note, I and my fellow executive members are proud of and appreciative of all the sports league chairs and vice-chairs for the many hours of preparation, organization, and control that they offer their fellow players. They prove, by example, just what volunteering is all about at 'the friendly club'. At a later date, I will be holding an appreciation get-together for these dedicated members.

These Unit leagues are holding their wind-up banquets this month and next, so in advance, I thank them all for their kind invitation to their individual function. It is always a pleasure to not only congratulate those awarded but to also listen to the play by play of games or good and bad shots taken during the past season, even if the stories are a bit big.

Summer at Unit #283 will again be quite busy throughout the warm months. Besides golfing there are plans in motion for summer snooker tournaments and challenge games, darts is holding a summer darts league and will continue 'darter of the month' Friday evenings, Ladies snooker plans to hold fun pool/snooker games, and our ever faithful cribbage league will continue play Thursday evenings and Tuesday afternoons. These events are open to all Unit members, so 'come on down' and have some fun at the Unit.

New Unit shirts are now on sale at a cost of $18.00 with sizes ranging from Medium to 3XL. Please either see me at the Unit or leave a order form at the bar and I will contact you asap.

As some of the Unit members may know, the 2017-2018 Provincial Command Sports schedule has finished and Unit #283 has successfully defended the Command Shield which was presented at out last Command Quarterly Meeting in Portage la Prairie. A heartfelt thank you to all who participated and represented the Unit at these tournaments. Winning is fun but participating is better.

Have a great great summer of whatever you plan, but most of all, have a "HAPPY SUMMER".